Hey Y'all! It's finally the weekend! Whew, It has been a week, let me tell ya! It's crazy that the week started out great, but has ended bad. Hopefully the weekend will be better! I'm sure of it, because we will be attending a Halloween party! We can't wait! It's gonna be fun!
I have participated in a blog hop! You can join in the fun along with 7,500 other bloggers! Click on the Followers Fest button below for more details!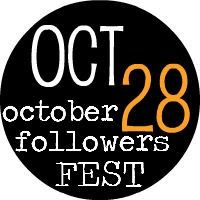 For those of you who are stopping by from the blog hop, Hey Y'all! I'm Annabelle! I am a wife of 6 years to Steve, and a mother of 3 years to Zane. We love to travel and hope to visit the whole country one state at a time! On this blog I share about my family, our travels, things we do, crafts, about our hometown, and much more!
I hope that you will stick around and share things with us!