I know this post should have came yesterday but I wanted to try to get some extra votes on the photo contest. If you voted,
Thanks-a-ton
! If you haven't, you still have time! Read about it
here
. My weekends in October have been very busy. I warn you this might be a long post and full of photos! That's what you like isn't it? Thought so! ;)
So Friday night, I wanted to finish some sewing projects. Well After getting two hems completed, the shuttle race stopped spinning. For those of you who don't know much about sewing, this is the part that feeds the fabric and turns the bobbin. (refer to first arrow on right picture) I tried cleaning and oiling my machine, and lots of other things, along with cussing it in my head, I gave up and left it sitting alone!
Sunday night I finally decided it was time to overcome the battle between me and this machine! I convinced my mechanic (aka the Hubs) to "dissect" my sewing machine. He literally took the whole plastic casing off and we found that a screw had fell out causing no motion for the shuttle race to turn. (refer to second arrow on the right.) It was put back in place and we checked for other visible issues. We didn't see any. So I oiled a few more places and the Hubs put it back together. I now am back in the game, the Hubs is a great sewing machine mechanic! I was one happy girl to finish sewing my project, which I will share later! ;)
O.M.G. I have to share a find I got a CVS! Sally Henson Salon Effects Nail Polish Strips! They are kind of pricey, but worth it! I used one sticker/strip for two nails. I did both of my middle fingers. If you follow the directions it's very simple and last up to 10 days! The instructions do not say this, but I also put a coat of clear to make them not peel.
I was in dire need of getting my hair colored. Major Root Rot is not a good thing to have! I had neglected my hair for about 3 months! Shame on me! So Saturday I finally went to the salon and "got mah hurr did!"
I had some red put in but it only shows best in the sun! It's cute I think! Oh yeah, I got me a feather too, cause all the cool kids are doing it! LoL (that's what that striped thing is you see)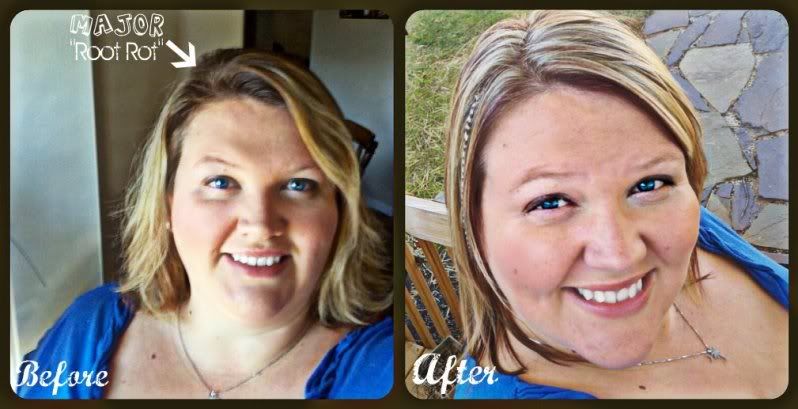 Yes, I Pin! Yes, I do actually make things from Pinterest!
Here are a few that I have done!

Yummy!

Baby Sling!

Baby Beanie
On Sunday, we had an appointment with my friend Christina to have some pictures taken. It was fun and I can't wait to see all the pictures she got! The photo that is in the contest was the costume shot of Zane she took. She has three children of her own and her oldest is the same age as Zane. They played well after the shoot. I helped them up into this tree and took a picture with my phone.
That pretty much wraps up my weekend in a nutshell! How was yours?