I have either attended or hosted a few parties in the past month. Two of which I can share with you. The other one, hmm, well it got a little
R
-rated and I have chose not to share too much details about it other than it was LOTS of Adult fun for all who came! hehe
So, to our first sweet party I attended was courtesy of my job! I love my job. I wont disclose much about it other than I am an assistant for a department of a large company. Anywho...On to the PAR-TAY!
It was held at the Duke Mansion in Charlotte, NC. For the two days I was there, I felt like a princess!
The whole place was nothing short of elegant! I ♥ the chandeliers! Oh.Em.Gee they were ah.may.zzing!
In between all this there were meetings and such that were work related. I will spare you the boring stuff!
Going to breakfast and heading home!
Crappy Phone Picture
It was a fabulous experience! Thanks to job perks! ;)
Now,
the next party was in a much different category. I hosted a
Holiday Craft Party
at my house. It went great but quickly turned to chaos when some didn't show that had RSVP'd. ANYWAYS---
I invited 10 women and here is the invitation they received via email.
(address and phone number blurred out for my own protection) ha!
There were 7 of us total and each of us had enough supplies for 5 people. My lovely mother and I ended up helping other girls out at the beginning because they swore they were not crafty inclined...ha! So out of the 7 crafts I only got to do three and mom did a few too but not all so I don't have seven crafts to show you. Sorry ya'll! But I will share that all of the crafts came from pinterest. I do not have the original places of where these came from so If they are yours please let me know!
Sock Snow "People"
I made mine into a girl but everyone else had hats on theirs. These were easy and a lot of fun.
Post-it Note Board & Pen
This consists of scrapbook paper, a clear 5x7 frame, 3x3 post-its, and a clear pen.
You can't see it, but the pen also has coordinating paper inside it.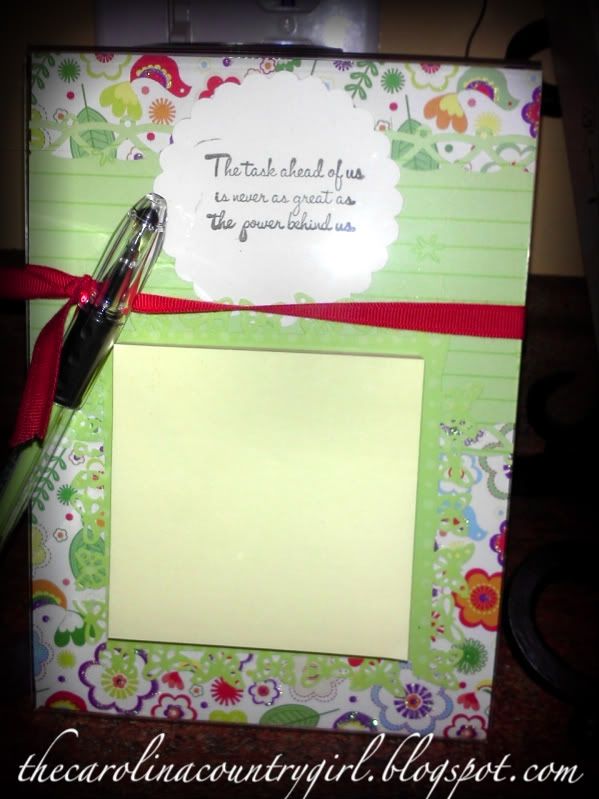 Apothecary Jar
This isn't what I thought it would look like. I am thinking that something smaller should have been used for the bottom, like a candle holder or something. Oh well it still looks neat.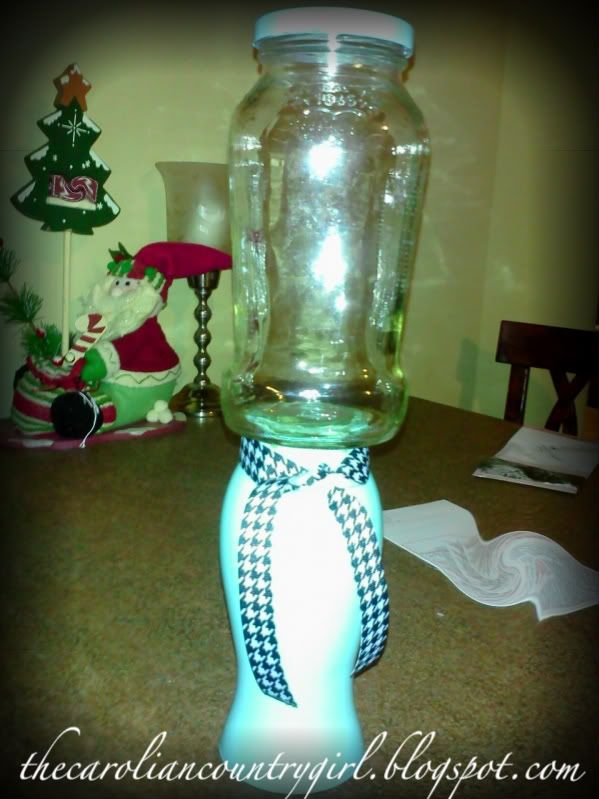 Memo Board-
This is a cookie sheet spray painted with chalkboard paint! Also adorned with scrapbook paper and ribbon, and hand made magnets. This will be hung in my office!
I also served a few snacks and drinks. The party lasted well over 5pm! Most didn't leave until 7pm! We had lots of fun and plan on doing another craft party in the Spring!
Happy Monday Y'all!