Today, I am linking up with Raven over at A Momma's Desires and Pacifiers! She is one cool Momma! I ran across her blog a few months ago and have come to love her!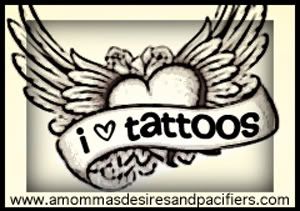 Raven wants the ones who link up to show what you have or what you are thinking of getting in the future. So, I will start out with what I have.
For as long as I can remember I have always wanted at tattoo. As soon as I became "of age" to get one, my high school best friend (we will call her KB) and I went to the next state over and got one! The next state?!? Yes, we had to drive over to Georgia back in the day because South Carolina did not legalize tattooing until 2004. Now there are several places to go get tatted up in South Carolina. Anywho, back to the story. So, we are at the tattoo parlor checking out the walls of generic sketches/images. KB said that she wanted some kind of frog and I said that I wanted some kind of butterfly. So we picked out our tattoos and went behind the needle together at the same time. What did I end up with? Well, I don't have any pictures of it but I did search online for something similar. I had it placed on top of my right shoulder blade.
Yeah. My First tattoo was generic. Picked off a wall.
A few years later, my second tattoo was very memorable. I was on a bachelorette trip and we all decided to get some ink! I wanted something small because I didn't want the Hubs to freak out on me. The bride loves daisies and her whole wedding was about daisies. So we decided to all get something incorporated with the daisy. I put two designs together to get this. I like this one because it was a fun trip and I will never forget it!
In 2008 my little brother passed away and I wanted to get something that had the most significant meaning. My brother wore mostly Carhartt brand clothes, he loved anything that had that logo!
So I had the tattoo artist draw up the logo. Just the 'C', because my brother's name was Chad. I also had him add wings and a halo. Underneath the 'C' is the year he was born and the year he died. I miss him so much. (another story for another day)
Please excuse my crusty feet! I couldn't find a good picture of this and my piggies need a pedi!
Two years ago, I went on a girl's trip with eight girls! I was really wanting to get my ugly, faded, bo-bo looking tattoo covered up. I also have a LOVE for SC Palmetto Tree and Crescent moon! So that is what I went with! I am not supper in LOVE with this cover up. It had to be dark to cover the old so I went with it. I had them mix it with black and blue.
This picture was taken the night after I got it.
I feel like it still needs something but I am not sure what. Here is one idea I came up with a while back. What do you think?
What tattoos do you have or plan to get?