First of all I want to thank my readers! I don't have a whole lot, but I read all of your blogs and I enjoy commenting and emailing you! It makes my heart smile that you are all so qinuwine! So, Thanks Y'all, for everything! I'm in a great mood can't you tell!?
Yesterday, the Hubs told me I had a package! For the life of me I couldn't remember what I had ordered off the world wide web! Then it hit me, I won a giveaway from
Tamara's blog T Times Three
!
Tamara send a cute note along with my prize! Her hand writing is fabulous! "I love you because" print and frame is what my prize was. I got to choose my color, of course I picked green, it's my fav! I had the perfect place to put this! On my mantle where I had just put my Easter decor!
Ignore that ugly speaker that my hubby insists on having there.
I love it and the hubs wrote on it last night but I forgot to take a picture but her wrote: "I love you because you cooked supper!" Sweet! This might be a new thing between us! Thank you Tamara!!! Check out
Tamara's blog
!
I love her wedding photos!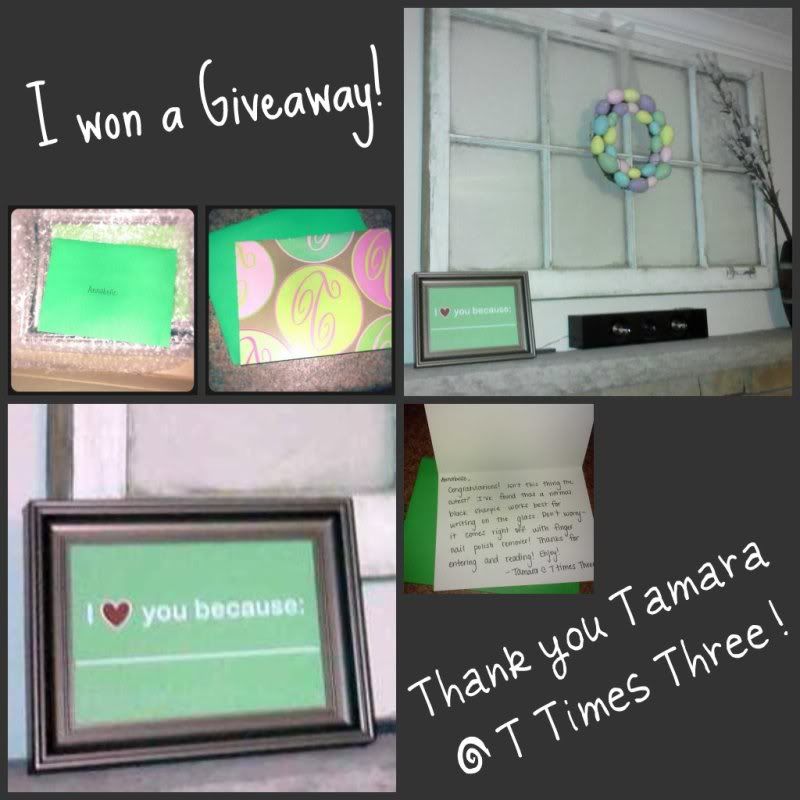 I also tried a Pinterest dessert last night! Chocolate chip pizza! I left it in the oven too long and almost burnt the bottom! I did make an icing drizzle that was not included in the recipe! Other than the cake batter running over the edges and almost burning the bottom, it was great! Next time I will use a bigger pizza pan or put foil in the bottom of the oven.
Zane says "PPTHHPTHPFFTHPPPT!!!"
In the terms of a 3.5 year old that mean Hey!