Not out of jail, silly! I was never there to begin with! I'm talking about getting out of the house and going to hang out with friends! It had been WAY too long!
It was my friend Dana's niece, Beth, 18th birthday! (say that 10 times fast!) I wasn't planning to go because I couldn't find a sitter for Zane. Last minute, a friend came through for me! Ah! I was so excited! Beth didn't have a clue that I was going. Dana and I planned to surprise her! They were getting ready at her house and I walked in and shouted "Surprise Birthday Girl! It's time to par-tay!" I scared the crap of out of her and her friend, Haley.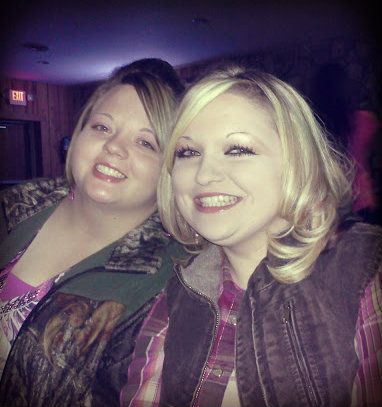 Dana & Beth
Once they finished primping, we all loaded up in the car like sardines and took off to the bar! There were six of us total! It's actually a country dance club. They do all kinds of line dancing and have a great band!
We got silly and took crazy pictures! It was a great time had by all!
I also finally got my hair done. It had been since August. I'm very ashamed to admit that! I took Zane with me. Surprisingly, he was good for the 3 hours we were there! Thumbs up for him!
I hope y'all had a great weekend too! I'm finally getting better! I feel the best today that I have felt in two weeks! Yay! Over & Out.