It's Friday y'all and I'm linking up with Ashley!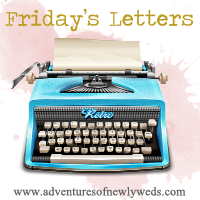 Dear Workplace Network, I love you, but this love hate/relationship we have has got to end! I cannot stand you coming in and out of my life every ten minutes! Get it together or it's over!
Dear Hubby, You need a chill pill! I'm so glad that in 5 days we will be hitting the wide open road! Leave all your worries behind, because we're gonna have the time of our lives for the next week or so!
Dear Zane, I sure hope you are ready for this again! I also hope that you will be on your best behavior and not pitch a durn fit like you did last night.
Dear Jen, I am sorry that I have been MIA. I have no excuse but I feel like we haven't talked much this week! We will have to fix that! Have fun on your vacay!
Dear Monica & Jen, I cannot WAIT until next Friday! It will be an interesting visit with all three of us wild women!
Dear Headache, Don't you start with me today. I will kick you where the sun don't shine! You got that? Good.
Dear KS Family, I will see you soon! I can't wait to see you again!