Happy Friday my pretty readers!
Today is a good day because it kicks off the weekend! I'm going to be honest, it's been a long week and I just ain't feeling any events for the weekend other than holding my couch down and watching movies! I doubt that will happen!
Today I am linking up with Ashley!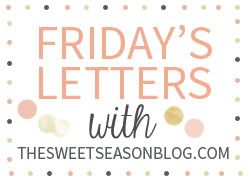 Dear Sinuses, Clear up, like ASAP! I hate waking up and sneezing my head off! Thanks! Dear Dislocated Knee, You are really making me mad. I thought you were healing pretty well on Wednesday, but you showed me otherwise. I've slowed down and walking with a gangsta lean just ain't my thing! Okay? Dear Chocolate, Why do you have to be so addicting? I hate that I can't quit you! Come Monday I'm giving you up for 30+ days! Or atleast try to! Dear Hubby, You are so spoiled rotten! This time every year you are always getting something new with 4 wheels! Dear Friends, Thanks for being there for me when I need you. Dear CoWorkers, Y'all crack me up! We have a lot of fun! Dear Parents, I don't know what I would do without you. Thank you for everything you do! Dear Readers, Old and New, You are the J to my PB&J, the apple to my eye, the pen to my paper! I love y'all!