It's Friday y'all and I'm linking up again to write letters yo!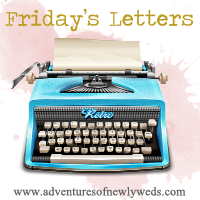 Dearest Heat,
Summer is here! I know that you are in full season, but take it easy this weekend. I will be camping and riding around in the teryx. I want to be able to enjoy it and not sweat to death. Thanks in advance! ;)
This was yesterday on my way home from work around 5:30pm!
Dearest Mommy & Daddy, I'm so glad that you are going to get some time to yourselves for vacation instead of having a ton of people around. You all need the relaxation! We love you!
Dearest Fires in Colorado,
I have friends out there. Plese keep them safe. I have been really excited to see them and they need big ole southern hugs from this girl! So simmer down any day now!
Dearest Hubby,
Thank you for planting the sunflowers in our backyard! Most imporantly, thank you for planting them where I can see them every morning when I wake up and get ready for work! I love you bunches!